weekly global research
Saturday 8th December
BITCOIN
1 Bitcoin = $3,434
Market Cap = $60 billion
Wallet Growth
2X more wallets created in 2018, than all previous years combined. – Pomp
Remittances
Dominic Rozario: A normal poor human being/ laborer from India, Mexico, Philippines do not use BTC to send to their families.
Manchowder: I guess you haven't heard of coins.ph. It has over 5 million users and is used by many in the Philippines who don't have access to banking services.
Bitcoin Accepting Venues
Data collected from: coinmap.org
There are currently more than 13,000 bitcoin accepting venues (ATMs, brick-and-mortar stores, services, restaurants etc.) worldwide.
Roughly 52% of the bitcoin-accepting venues started taking the cryptocurrency between 2013 to 2015.
The most new venues were added in 2014 but then, following a slowdown, activity picked up again in 2017 and 2018.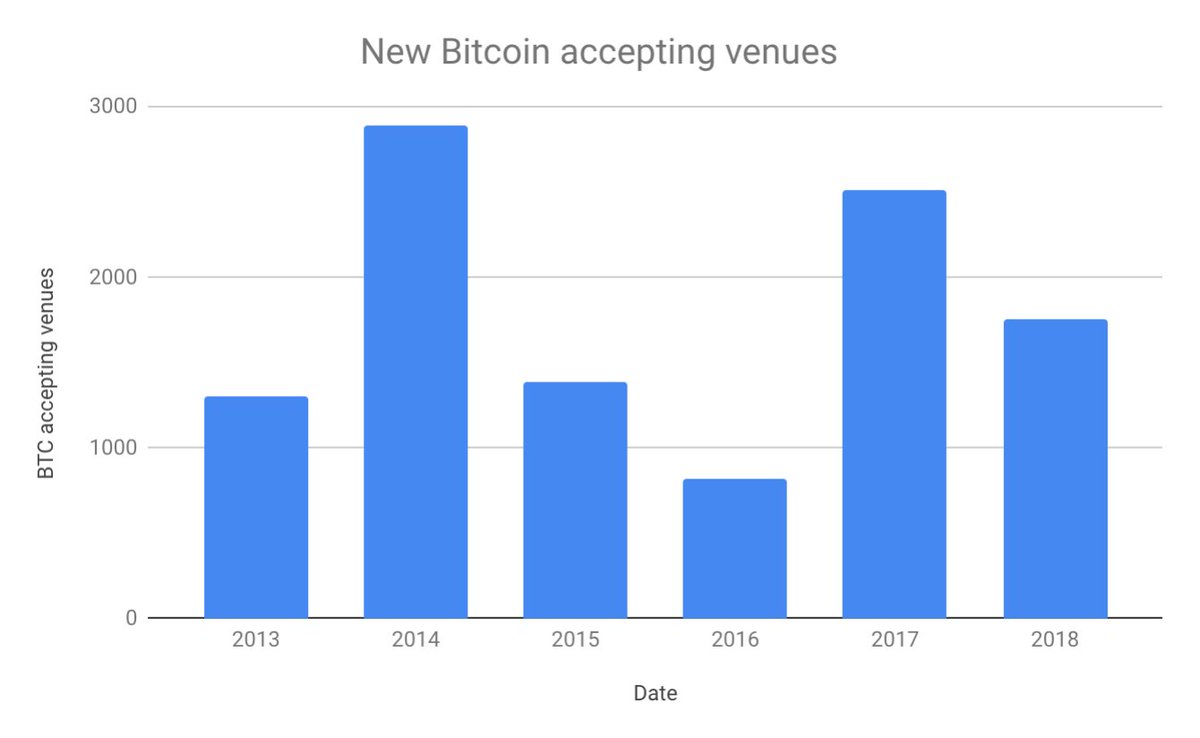 Looking at the geographical distribution, the United States is unsurprisingly leading by a wide margin with roughly 27% of all bitcoin-accepting venues.
It's more telling, though, to weigh the results by population:
The United States slides to the 21st place with 8.7 venues per one million people.
The two leading countries in bitcoin-accepting merchants per capita are Slovenia (41.6 per million) and Czech Republic (32.6)
If only cities are considered, Prague has the highest absolute number of bitcoin-accepting venues and the third-highest density.
The highest density is in the so-called "bitcoin city" Arnhem — a veritable hamlet in the Netherlands, with just 152,000 people.
———————————————————
Even though the number of merchants is still low and not increasing quickly, the narrative of paying with bitcoin still hasn't died off. Whenever there is a bull market with high volatility levels, the number of new merchants that start accepting bitcoin increases.
Before Bitcoin
There were lots of attempts to build digital currencies before Bitcoin:
DigiCash ('89)
Beenz (98)
e-gold (98) – e-gold existed longer than bitcoin [currently has] before they shut it down – Andreas Antonopoulos
Flooz (99)
1mdc (01)
e-Bullion (01)
Some even tried to anonymously create underground (Tor only) currencies like eCache (2007).
MINING
The Largest Difficulty Drop of the ASIC Era
Second largest drop in mining difficulty in history.
Relatively, the difficulty only dropped to a 4-month low.
The difficulty is still twice as high after the adjustment than what it was in February 2018.
Vertcoin (VTC) Successfully 51% Attacked
Deep reorganizations of the Vertcoin blockchain, with the largest reorg having a depth of 307 blocks and a length of 310 blocks. The total value of the double spends was over $100,000.
These attacks on VTC are not the only examples of a successful 51% double spending attack. 51% attacks occurred in BTG, XVG, and MONA earlier this year.
CRYPTO ASSETS


Market Cap = $109 billion
Cryptocurrencies and the Denationalization of Money
In a 1976 book titled The Denationalisation of Money, F.A. Hayek put forward a novel proposal for private monies, to allow competition by de-monopolizing and de-nationalizing money.
Under Hayek's proposal, private individuals and businesses would be free to offer their own monies to compete with the government-issued irredeemable monies already in circulation.
Hayek believed users would switch to currencies that they found better, and that the prospect of gaining customers would prompt private issuers to offer superior alternatives. Governments would then have to improve their currencies (i.e., lower their inflation rates) or lose market share to private providers.
Hayek was clearly onto something when he proposed allowing private alternatives to poorly managed government monies. The market for cryptocurrencies is still pretty new. Bitcoin launched just under a decade ago. New currency ideas continue to be developed and launched so it is probably too early to say how things will shake out.
But as Hayek wrote elsewhere, competition is a discovery procedure: we need to let it work to reveal what types of money people most want and how best to provide them.
As cryptocurrency pioneer Nick Szabo has written, the unsettled questions about cryptocurrency "can only be settled by actually fielding them and seeing how they work in practice."
– William J. Luther, Lawrence H. White
Quantum Safe Crypto Assumptions for Bulletproofs
Quantum security is a bit of a red herring. All of the cryptography that cryptocurrencies use today is not secure against a powerful quantum computer (even the hashes).
To not use cryptography because of you are afraid of quantum computing is to not use Cryptocurrencies at all and in fact you can't even use the internet then. I think the recent inflation bug showed once again that we have to worry much more about implementation bugs etc.
US Law Enforcement Wants Blockchain Surveillance Tools for Privacy Coins
The U.S. Department of Homeland Security (DHS) has published its 2019 fiscal year pre-solicitation document.
"This proposal seeks applications of blockchain forensic analytics for newer cryptocurrencies, such as Zcash and Monero," the solicitation letter reads.
The DHS proposal explains that the agency wants to mitigate these issues by following three phases.
The first phase is for researchers and programmers to design a blockchain analysis ecosystem for law enforcement agencies, or to modify an existing DLT analysis tool for this purpose. The new tool must be able to provide surveillance architecture specifically for privacy currencies such as monero and zcash.
The second phase is to develop a blockchain monitoring prototype that can be demonstrated and that involves the analysis of "suspicious transactions without external data, with external data, and on another blockchain platform."
Lastly, the third phase will include the rollout of commercial and government-grade blockchain surveillance applications.
Binance Chain
We are launching Binancechain very soon, in a couple months or so, and you will be able to issue tokens on that….I think there will be millions of coins and thousands of blockchains." – CZ
Binance DEX, which should be released in early 2019, will be built on Binance Chain and use dBFT (Delegated Byzantine Fault Tolerance) as the consensus mechanism (like NEO).
BNB tokens will be transitioned from ERC20 to native tokens that will be used for gas.
Binance will get a small fee from each trade on the DEX.
Binance DEX will supposedly feature low latency (1 sec block time), high throughput trading and decentralized custody of funds
Features include:
Projects can run an ICO and raise funds in BNB
Send, receive, burn and freeze/unfreeze tokens
Propose to create trading pairs
Full video of the sneak peek can be seen here:
PRIVACY / SECURITY / INTERNET
The Renaissance of Cryptography
Cryptography was almost exclusively a military technology for centuries.
In the 1990s millions of personal computers connected to the internet, cryptography graduated from a munition, to an industrial tool to secure credit card payments over a global, open and hostile environment.
We are living in a renaissance era of cryptography: we have fantastic tools, amazing people and strong demand for high-quality cryptographic products with direct financial incentives.
For the first time ever, the ambitious ideas of zero-knowledge proofs that were stuck in academic papers for many years are finally implemented for the blockchain applications: Zcash, Confidential Transactions, Monero, and Bulletproofs.
We are now at a lift-off point: we have a strong foundation to build upon with confidence. Now is the best time ever to learn and work with cryptography. Expect truly transformative technologies to come out of this mix in the coming years.
COMPANIES / PROJECTS / PRODUCTS
File-Sharing Traffic, BitTorrent in Particular, is Making a Comeback
With the growth of services such as YouTube and Netflix, streaming started to generate massive amounts of bandwidth.
As a result, BitTorrent lost a significant chunk of its 'market share.'
This trend gradually increased, until recently. Increased fragmentation in the legal streaming market may play a role in this resurgence.
"More sources than ever are producing 'exclusive' content available on a single streaming or broadcast service – think Game of Thrones for HBO, House of Cards for Netflix, The Handmaid's Tale for Hulu, or Jack Ryan for Amazon. To get access to all of these services, it gets very expensive for a consumer, so they subscribe to one or two and pirate the rest.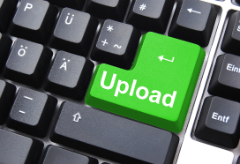 Globally, across both mobile and fixed access networks file-sharing accounts for 3% of downstream and 22% of upstream traffic.
More than 97% of this upstream is BitTorrent, which makes it the dominant P2P force.
Popular file-sharing upload sources in the Asia Pacific region are the Korean P2P app "K grid" (7%) and "Afreeca TV" (2%).
And we haven't even mentioned non-filesharing traffic sources such as cyberlockers and streaming sites, which are even more popular than BitTorrent…
– Ernesto
PLACES
Ask most people in Sweden how often they pay with cash, and the answer is "almost never."
Among 18- to 24-year-olds, the numbers are startling: Up to 95 percent of their purchases are with a debit card or a smartphone app called Swish, a payment system set up by Sweden's biggest banks.
About half of Sweden's 1,400 bank branches no longer accept cash deposits.
More than 4,000 Swedes have implanted microchips in their hands, allowing them to pay for rail travel and food, or enter keyless offices, with a wave.
Half the nation's retailers predict they will stop accepting bills before 2025.
At the Ikea in Gavle, about 100 miles north of Stockholm, managers decided to go cashless temporarily last month after they realized that fewer than 1 percent of shoppers used cash.
They also found that employees were spending about 15 percent of their time handling, counting and storing money.
———————————————————-
The central bank is testing a digital currency — an e-krona — to keep firm control of the money supply.
"The demand for cash is decreasing at an ever faster pace," Leif Trogen, an official at the Swedish Bankers' Association, said. "Therefore, it is fundamentally wrong to legislate to influence the demand for cash."
Mr. Ingves, the central bank governor, said, "This is not a war on cash, but no one has argued that this evolutionary motion is going to stop."
.
.
OECD Publishes Blacklist of 21 Countries with 'Golden Passport' Schemes
OECD says selling either residency or citizenship threaten efforts to combat tax evasion.
The Paris-based body has raised the alarm about the fast-expanding $3bn citizenship by investment industry, which has turned nationality into a marketable commodity.
Three European countries – Malta, Monaco and Cyprus – are among those nations flagged as operating high-risk schemes that sell either residency or citizenship.
In exchange for donations to a sovereign trust fund, or investments in property or government bonds, foreign nationals can become citizens of countries in which they have never lived. Other schemes, such as that operated by the UK, offer residency in exchange for sizable investments.
The programme operated by Malta is particularly popular because as a European member state its nationals, including those who buy citizenship, can live and work anywhere in the EU.
Also on the OECD blacklist are a handful of Caribbean nations that pioneered the modern-day methods for the marketing of citizenship.
The final names on the list are Bahrain, Colombia, Malaysia, Mauritius, Montserrat, Panama, Qatar, Seychelles, Turks and Caicos Islands, United Arab Emirates and Vanuatu.
THE ASCENT OF MAN
100 Successful Orbital Launches so Far in 2018
Space industry growing significantly.
The previous time we broke 100 launches was in 1990 (114 successful launches).
This was the last full year of the Soviet Union thus the end of the Cold War competition between the two space superpowers. The launch rate then declined drastically from the initial three decades of the Space Age.
BFR Renamed to Starship
This vessel will dwarf the Falcon Heavy and potentially clear the path for private space tourism, Mars travel, and an inter-Earth transport system. In short, it's supposed to flip the aerospace game on its head.
Currently, Starship is being assembled in a shipyard near the southwestern part of Los Angeles' Terminal Island, which SpaceX leased as manufacturing ground for the rocket in March. But Musk has recently stated he is "accelerating" to try and meet get the booster airborne as early as 2022.
The second stage — that space-shuttle looking vessel that makes up the top half of the whole vehicle — refers to Starship. The first stage, now named "Super Heavy," will be responsible for getting Starship past the atmosphere.
It is now expected to be 387 feet tall (118 meters), SpaceX's largest rocket of all time, 157 feet taller than the Falcon Heavy and twice as powerful.
.
Who Will Get to Mars First? Oddsmakers Favor SpaceX and Blue Origin Over NASA
David Strauss, an analyst and oddsmaker at MyBookie, says NASA is the underdog and Musk is the favorite.
"Bezos may have the discipline, but Musk has the infrastructure and just the right amount of craziness to make a successful mission happen," he said. "The days of government organizations staging trips to another planet are behind us. I would be surprised if NASA truly makes it back to the moon."
MyBookie's betting line gives SpaceX a 75% chance of sending humans to Mars first with odds of -300.
Blue Origin is the runner-up with a 20% chance: The odds are +400.
Bezos and others at Blue Origin have included Mars in their long-term vision, but not as the first priority. Outposts in space and on the moon are higher on the list.
Senescent Cells
Senescent cells are one of the 7 major forms of Aging Damage. It's unbelievable that medical science today is not in the middle of a Manhattan-project to fix this accumulating damage.
They are busy with statins, ssri's, exercise in a pill etc.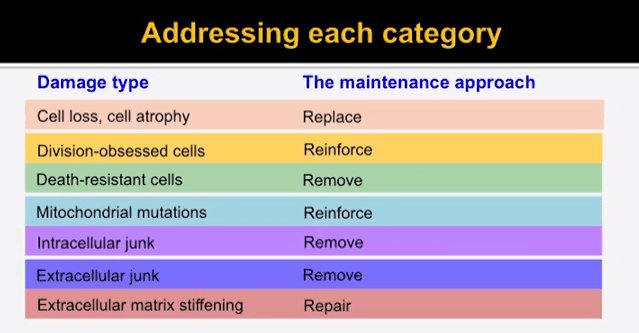 Study published in Nature Medicine, by Dr. James Kirkland, director of the Robert and Arlene Kogod Center on Aging at Mayo Clinic.
—————————-
.
.
"All you have to do is disable the defenses of the senescent cells for an hour or two, and that's sufficient for the cell to enter the process of apoptosis," or cell death, says Kirkland.
In another phase of the study, the researchers showed that mice given senescent cells and the combination of cancer drugs lived 36% longer than animals with senescent cell transplants who were not given the drugs.
And the added life span did not come at the cost of health. The animals freed of their senescent cells tended to be healthier and less frail until just before they died; their longer life didn't mean they spent more time ailing.
"We once felt that once people are elderly, it's too late to avoid geriatric syndromes like frailty, loss of independence, decreased muscle strength, and forms of mild cognitive impairment," says Kirkland.
"What we are beginning to find is that we have to rethink that. It's looking like very old mice are able to substantially improve their health span, reduce or delay age-related diseases and increase their survival."
About a dozen so-called senolytics—drugs that are designed to target senescent cells—have been described in various studies, and some are being studied in early human trials.
It's likely that people with severe frailty will be the first to test these compounds. If the agents are safe and effective in that population, then researchers would move to testing them in healthier people.
Follow me on Twitter @leebanfield1
Bitcoin: 3A9hV1Xc2aq2T5LdfJzDs832yLizRGyJuW